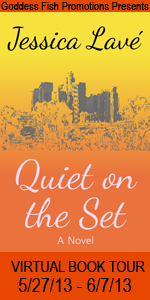 First up, the winner of the $20 Fandango gift card during the tour is: Catherine Lee! Congratulations!
My suggestion: Man of Steel opens this coming weekend, and Much Ado About Nothing the one after that. Just a suggestion. Enjoy!
Thoughts overall
What a trip! It's been really fun for me these past couple weeks touring book blogs around the internet . I honestly can't wait to do it again, though I know it'll be a while before I get to, having that pesky all that writing/editing/publishing to get to again first.
Once again, I want to say thank you to all the tour hosts, all the commenters and readers, and my marketing company for helping me put all this together and for joining me on the ride!
The Successes
I gained a few new readers I think, and made some new contacts and web friends, which is wonderful. It was really helpful and interesting to see what people thought of the book and the excerpts, as well as what they thought of me and my quirks and habits.
I finally figured out the replies the second week and got better about using them, so I hope everyone forgave me for that during week one!
From a strictly businessy standpoint, all those extra links and connections from these other blogs is going to make a big difference in my website's ranking and traffic over the long term, which is another plus.
What I Learned
Now that I've done it, I think I have a better grasp on how to do it the next time around. Again, it won't be for a while since I'm not planning on releasing another book soon, but it's very helpful to know the process.
For one thing, I would like to be more prepared the next time around. Because I'm self-published, this creates a problem with sending out the purchase links ahead of time: I can't get the exact links until I approve the book on CreateSpace. Meaning, if I wanted to arrange a tour before my book was released, I couldn't really do it very well without having a purchase page to send readers to, which is a bummer, but at least I understand that part now.
That said, I wouldn't have minded having more time to prepare my posts. I didn't put them off–I actually put most of my other projects on hold in order to work on them–but having to write so many interviews and posts in such a short period of time wasn't easy, even for someone as prolific and wordily inclined as me.
Also, as far as the Goodreads First Reads program is concerned, I think next time, I would do the blog tour first, then the Goodreads giveaway, and then any other contests or giveaways following that. The reason being, I think the tour does more to generate familiarity with me and the book than any of the giveaways do. Having that small bit of publicity as a base for any subsequent giveaways and promotions seems to make more sense.
What now?
Honestly? I'm f—ed if I know. I've got so many balls in the air right now, I'm really having a hard settling on which one to put into play next. My creativity is busting the dam, so to speak, and I've too many ideas and not enough time to enact them all. And then, by the time I get to the next one, I've already thought of a half a dozen more.
But, more on that later :)
Overall, I really loved the experience of doing an "official," professionally coordinated blog tour. It's a lot of work, don't get me wrong, but it was also a lot of fun. I would even like to extend it to three or four weeks the next time around, if I can. Though for that, I would definitely need more time to prepare my posts in advance!
For instance Xylocaine causes numbness in an area of your body. Given during childbirth. Secondly treats emergency heart problems. There were only couple of examples. What is the most significant data you should know about canadian viagra? A lot of patients know this drug as Sildenafil. Whereas erectile disfunction is more common in men over sixty, men of any age can unable to have an erection. Notwithstanding sex is not vital for good health, it's undoubtedly good for you. Diabetes can lead to erectile disfunction. While the generic is credited with nerve ache, it can also kill the mood in bedroom. Very likely you already heard that any generic has side effects.