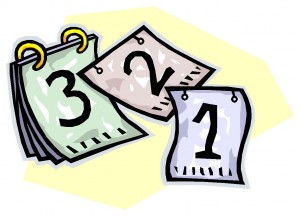 No, I'm not talking about relationships. I'm talking about scheduling: setting dates and goals for yourself to get things done within a reasonable time frame. I just looked at my original time frame on where I wanted to be with my edit-in-progress, and according to that, the book should have been coming out next week!
Since I fell so far behind with all the rewrites, next week is wildly unrealistic. I should have revised this timeline a couple weeks ago, but I got caught up writing and pushed the thought of a publication date out of my mind because I knew I wasn't going to make it according to my original plan.
Now that I've looked it over, it's looking like mid-March. So, I'm going to say, somewhat firmly with a hint of tentativity (I like the sound of this better than "tentativeness"), Tuesday, March 19.
That means, I have to review and revise this sucker as many more times as it takes, including proof copies, until it's perfect. Plus, I have to work on my marketing plan, keep up my blogging – which I'll admit, has fallen off lately, and finally – this is the big scary part – keep up my social media interaction. Not to mention, settle on a title, blurb and excerpt. I do have the new cover design and I have a title I love, but I'm still not sure it fits. Either way, I need to finalize the title to put on it before I can broadcast the cover.
I know what you're thinking: "she doesn't have enough time for all that;" or maybe, "what's the rush? why not take your time instead of rushing through?" The fact is: I do have time. I have plenty of it. I could have finished a third or fourth draft by now if I hadn't been struggling with some motivation/procrastination issues lately. I've also been a little under the weather dealing with a few cold-like symptoms and some very unforgiving headaches that have set me back a bit.
In response to the second question, I could wait. I could take my time. But dawdling leads to procrastination, and procrastination leads to nevergonnahappen. I am extremely efficient when I put my mind to something – I just need to pull myself out of the procrastination spiral and get back on track.
The funny thing is, in spite of the procrastination, I can't wait to share this book with you all! It's a really wonderful story about friendship, success, failure, maturity, and self-discovery. I think you'll really love the cover, too – I just have to finalize the damn title!
For instance Xylocaine causes numbness in an area of your body. Given during childbirth. Secondly treats emergency heart problems. There were only couple of examples. What is the most significant information you should know about canadian viagra? A lot of patients know this drug as Sildenafil. Whereas erectile dysfunction is more common in men over sixty, men of any age can unable to have an erection. Notwithstanding sex is not vital for good soundness, it's undoubtedly good for you. Diabetes can lead to erectile dysfunction. While the generic is credited with nerve pain, it can also kill the mood in bedroom. Very likely you already heard that any generic has side effects.