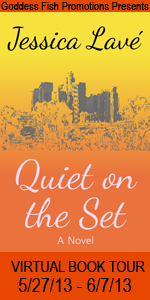 It's here! I've been talking about this tour for weeks now, and now you can follow along and find out what I've been up to!
Instead of posting a link to each new post every day this week, which I think might be kind of annoying and tiresome, I'm doing a week one post with all the stops and a brief summary, and I'll update THIS same post and the tour page every day with the new links as each tour stop link goes live, as well as sharing the new post on my Twitter.
Be sure to follow along, leave any thoughts or questions in the host blog's comment section, and remember, comments will enter you in the giveaway for a $20 Fandango gift card!
Day 1: May 27
Get a little insight into my writing, my habits, and what it was like working on Quiet on the Set!
Day 2: May 28
Guest Post at Welcome to My World of Dreams
Here, I discuss my writing space, or lack thereof, and the world outside my window.
Day 3: May 29
Interview at Lisa Haselton's Reviews and Interviews
This interview focuses a little more on my journey as a writer, from my new book, working back to how and when I decided I wanted to be a writer in the first place.
Day 4: May 30
If nothing else, stop by and check out the header on this blog, it's gorgeous! This interview has a wide scope on everything from my inspirations to my favorite things about writing to what challenges me most in my writing, as well as plenty of other fun facts about my writing and reading habits.

Day 5: May 31
Interview at Books and Other Spells
This interview is more about the experience of being a writer, both during the writing and after the publication process. It's a big adjustment for many people, and I think the transition hasn't really hit me yet.
~ ~ ~ ~ ~
Thank you so much for all your support! I hope you enjoy the tour as it goes along, and please don't hesitate to leave me comments here or tweet me @jessinsists during the week! I'll be checking in everywhere all week long!
And, look for a new post next Monday with all the stops for week 2!
For instance Xylocaine causes numbness in an area of your body. Given during childbirth. Secondly treats emergency heart problems. There were only couple of examples. What is the most significant info you should know about canadian viagra? A lot of patients know this drug as Sildenafil. Whereas erectile disfunction is more common in men over sixty, men of any age can unable to have an erection. Notwithstanding sex is not vital for good soundness, it's undoubtedly good for you. Diabetes can lead to erectile dysfunction. While the generic is credited with nerve pain, it can also kill the mood in bedroom. Very likely you already heard that any generic has side effects.