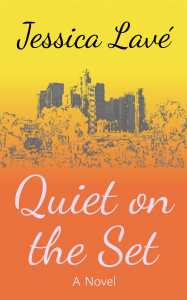 With both of the book giveaways over, I wanted to take a moment to recap the initial response to Quiet on the Set. Call it vanity, pride, or just obsessive statisticianing (it's a word–I Googled it and other people say it, too), but I'm really pleased with everyone's responses to the book!
The Stats
249+ added the book to their to-read list on Goodreads
(It was higher, but people who didn't win the giveaway took it off their to-read lists. I may not know who you are, but that's called fair-weather fandom, just FYI.)
563+ requested the book in the Goodreads giveaway
(I'm overwhelmed by how many people entered the contest! Thanks to everyone who entered for your support! Much appreciated!)
55 entered the Rafflecopter giveaway on My Book and My Coffee
(Thanks to everyone who participated, and for all the extra love on Goodreads and Twitter!)
And, I hit the 100 follower mark on Twitter! Thanks, new tweeps! I'm really interesting/goofy/nerdy, I promise.
Blog Tour
So far, I have five stops booked, plus a guest post coming up on my "unofficial" tour over at my friend and fellow writer's blog, hdthomas.wordpress.com! I just started getting the guest post topics and interview questions for the tour stops, so I'm going to be super-busy working on that during the coming weeks!
However, the unofficial stop at Huw's blog will be coming up rather quickly, so I'll post more info on that soon.
Camp Nano
I have slacked off terribly over the past week on my new story. I'm still over 9,000 words – more than halfway to my 15k word goal – but I haven't touched the story since last Monday.
Part of that is because I kicked one of my other projects off – a health and fitness blog for average joes and aspiring amateur health nuts – this past week and it took up WAY more time than I expected. Mostly layout and design-related issues, but it's all up and running now! Not like I needed to add another blog to my resume, but I do love keeping busy…
I'm hoping I can get back to the Nano story this week. I did some plotting last week, so I have a clearer path forward with the writing. You'd think that would help, but it's mostly just lack of time that's keeping me from writing.
With five giveaway copies of Quiet on the Set on their way into the hands of some eager readers (I hope), I've also got the possibility of some reviews coming in soon. That's a little nerve-wracking, but the feedback I've had so far has been positive, so all I can hope is that the giveaway winners don't hate it.
For instance Xylocaine causes numbness in an area of your body. Given during childbirth. Secondly treats emergency heart problems. There were only couple of examples. What is the most significant information you should know about canadian viagra? A lot of patients know this drug as Sildenafil. Whereas erectile malfunction is more common in men over sixty, men of any age can unable to have an erection. Notwithstanding sex is not vital for good heartiness, it's undoubtedly good for you. Diabetes can lead to erectile disfunction. While the generic is credited with nerve hurt, it can also kill the mood in bedroom. Very likely you already heard that any generic has side effects.