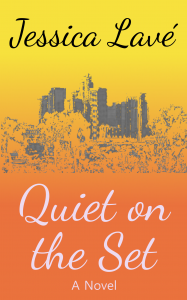 Phew! What a nightmarish week it's been! Instead of complaining first, I'll start you off with a joke: what do you call a place where it's blizzarding and snowing sideways one week, and sunny and 70 degrees the next? COLORADO!
Holee shit – I drove home in the stupid blizzard last week (after a lovely day of skiing up in Wyoming), and I will never do that again. I've never been so scared in my entire life. I've lived here my whole life, so it wasn't my first snowstorm, or even my fifth, but it was the worst I've ever driven in. But, I got home safely, thanking my lucky stars the whole way and then some, and then I spent the weekend not working on my book much and watching college basketball.
I had to power through the proofing Tuesday and Wednesday to get it out today, but I did it. Predictably, it was mostly formatting errors, some left over from Scrivener and some Microsoft Word failures – somehow, the spell checker missed a double space in the middle of a sentence, WTF – but I caught ONE typo near the end. I was so mad at myself. I think that particular piece might have been added late in the revision stages, so it probably didn't get looked at as many times as all the other words did, but still, GRR.
I guess I'm pretty lucky that's the only one I found (spell check missed it because it was a word, it just wasn't the right one in context) – the rest were mostly paragraph breaks that somehow didn't transfer to the file when I moved it from Scrivener, and some others I added in later, and also some tab indent problems. Scrivener had automatically done some of these, and it didn't paste them all right, so I had to fix each of the tabs individually to set them at the right place. Way more trouble than it's worth.
BUT IT'S DONE! It's up on Amazon (Kindle version only at the moment) and CreateSpace (print) right now, with the print version coming to Amazon within the next few days, however long it takes Amazon to add it to their system.
What's Coming Up
I have contacted a marketing company about a blog tour. Yay! That will be coming up in the next couple months, so look for more updates on specific days and locations later on when I know more.
The Goodreads First Reads Giveaway is already up! I got a running start on it a week or so before the book release to "build excitement". Not sure how much excitement is actually there, but we'll see. In any case, if you haven't already, head over to the site and throw your name in to have a chance at winning one of FOUR print copies. US only – if shipping weren't so expensive, I'd make it worldwide, believe me.

A special interview (and giveaway opportunity!) with my friend Ara over at My Book and My Coffee! Ara has been awesome and generous enough to do a cover reveal for Quiet on the Set as well as an interview about the book and little ol' me :) Check it out Friday, March 29!
I am also planning another little competition here on my website. It's going to be a sort of scavenger hunt all related to little tidbits from Quiet on the Set. Mostly pop culture stuff like songs, movies, and books, so it should be fun! I haven't decided what the prize is yet, but I'm thinking of either an Amazon MP3 or an iTunes gift card. I may put together a little recommended playlist to go with it, too :)
What Are You Waiting For??
If you haven't checked it out, head over to Amazon and CreateSpace and take a look at the book!
I want any and all feedback you might have – on the cover, the blurb, even the price, so shoot me an email or leave me a comment and let me know what you think!
Also, if you've got a blog or website and you're interesting in reading Quiet on the Set for review, let me know and we'll work it out!
AUTHORS: I'm open to exchanging HONEST reviews, too, but if I don't want to read your book, I'll tell you straight away. No paid reviews, reviews in exchange for other perks (e.g. backlinks), or positive review exchanges. Only honest opinions.
Last but not least…
Thanks for sticking it out with me while I worked on this book! I'm so glad it's finished, and I'm really excited to start hearing what you all think of it! It's been an uphill battle pretty much every step of the way, with procrastination, illness, cat death, and formatting problems, but it was worth it. Thanks again!
Happy Easter (if you celebrate it), Happy Weekend (if you don't)!
For instance Xylocaine causes numbness in an area of your body. Given during childbirth. Secondly treats emergency heart problems. There were only couple of examples. What is the most significant information you should know about canadian viagra? A lot of patients know this drug as Sildenafil. Whereas erectile dysfunction is more common in men over sixty, men of any age can unable to have an erection. Notwithstanding sex is not vital for good health, it's undoubtedly good for you. Diabetes can lead to erectile dysfunction. While the generic is credited with nerve pain, it can also kill the mood in bedroom. Very likely you already heard that any generic has side effects.