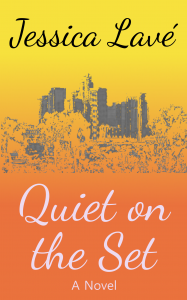 Apparently one bad review can really kill your book's chances when you're an indie/self-published author. Especially when readers don't realize the good reviews are out there, they're just on different platforms!
It's tough out there, and even though I haven't had any reviews as a result of doing the free promotion on Kindle Direct, I'm going to give it another go. Not because I expect any different results, but simply because I can and I don't want to bypass the person out there who might actually be interested in leaving a review once they read the book.
Not much of a sales pitch, but if you want to check out the ebook version of Quiet on the Set for FREE, here's your chance!
The free promotion will run
Wednesday 7/17/13 at 12:00 AM PT
to Sunday 7/21/13 at 11:59 PM PT.
NOTE: The hours of the promotion are approximate and will depend on Amazon updating their system accordingly. Please verify the price is "free" or "$0.00" before downloading!
No Kindle? No Problem!
If you don't have a Kindle, you can download their free app to your phone, tablet, or computer!
What Quiet on the Set is about (in case you forgot):
No matter how talented you are or how hard you work, sometimes, it takes more than that to make it in the movie business.

Luckily, Rylie Cates is good at making friends. After her screenplay makes it into a small film festival in Los Angeles, she goes out west to learn her way around the industry and get a jump-start on her new career as a writer. Her new friends may not be considered "Hollywood royalty," but together, they make a pretty powerful team.

Though Rylie spends most of her time focused on writing and gaining a solid foothold in the screenwriting business, she meets too many new people not to have a personal life. But, the pressures of success, some dormant bad habits, and a few ghosts from her past crop up and complicate any romantic prospects she might have.

Still, no matter how many enemies she makes, no matter how many bottles of whiskey she goes through, and no matter how many rewrites she does, Rylie realizes she can overcome anything with a little perseverence, and a little help from her friends.

Follow Rylie's journey as a small-town kid from Maine to an up-and-coming LA screenwriter as she makes a new life for herself in Hollywood – and discovers all the politics and obstacles that come with it – in the new novel Quiet On The Set!
You can find excerpts, links to reviews, and more about the book here.
What did you think?
If you do download the book, if you do get around to reading it, and if you feel compelled to do so, please leave me a review! Amazon or Goodreads are preferred since that's where you can find my books most easily, but if you have a blog or another website where you post your reviews, let me know! I'm always glad to get feedback from readers, good or bad.
I hope you don't think it sucks.
Once again, you've got five days, 7/17-7/21.
Get it while it's hot!
PS: If you haven't entered the Rafflecopter giveaway, now's your chance! The book may help you figure out some more of the scavenger hunt clues!
For instance Xylocaine causes numbness in an area of your body. Given during childbirth. Secondly treats emergency heart problems. There were only couple of examples. What is the most significant info you should know about canadian viagra? A lot of patients know this drug as Sildenafil. Whereas erectile dysfunction is more common in men over sixty, men of any age can unable to have an erection. Notwithstanding sex is not vital for good soundness, it's undoubtedly good for you. Diabetes can lead to erectile dysfunction. While the generic is credited with nerve pain, it can also kill the mood in bedroom. Very likely you already heard that any generic has side effects.