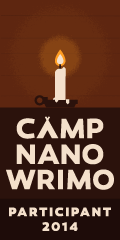 You may have noticed, or maybe not, that I haven't been posting here lately. I wasn't on vacation or ill or doing anything glamorous or interesting. I was just taking a break.
Last time I posted here, I was very busy reading, but I wasn't doing much writing at the time. I'm sort of in a weird place, not between projects, but having a hand dipped in a few different ones. I am participating in Camp NaNoWriMo again this year, but more because I want to put a period at the end of an unfinished project I began last year than because I especially want to work on it. Unfinished projects bug the hell out of me now, and I want this one off my self-imposed obliged-to-finish-things list.
As to the reading, I'm still pushing through, but I got way off track in March and picked up a bunch of audiobooks through the library that were NOT on my list. They were good and I'm glad I read them, but I'd like to get back to my physical, taking-up-space TBR pile. I have been keeping up with the book clubs I'm participating in, but it's been a little frustrating not being able to get a hold of titles until a week or two before the club meets and having to push through them more quickly.
As I mentioned, I have been writing for Camp Nano, finishing up the story I started last July during Camp, but that's been slow work. I was working on a new story before Camp started – writing it out by hand for the first time in ages, if you can believe it – but that one is on hold at the moment. I have been wanting to try a screenplay again, but I want to read up a little bit about how to do it before I dive in. And, though the longhand story started out as a novel, I am starting to think it might work well as a movie, which would be a good way to take out two birds with one stone.
And last but not least, the editing: my work in progress is still in progress – which I expected. I got feedback a couple weeks ago from one of my beta readers, and though at the time I felt I still needed a little distance from the story before I could start working on it again, I'm starting to get to the point where I think I can get back into it. I have a new approach in mind, which I suspect is boosting my confidence at getting through the editing more easily this time.
I have several subplots and a pretty long list of characters in the book, and while they all tie into the main plot and all get connected in one way or another to the main character, they all have their separate goals and motives throughout the story. So, I'm thinking if I approach the editing one character at a time rather than going a chapter or major event at a time, I can fill in the blanks better on that character's personality, motives, decisions, and overall resolution of their part of the story. Maybe I'll even be able to resolve some of the inconsistencies while I'm at it!
Writers: thoughts on this?
How do you approach editing and multiple perspectives/protagonists?
I mentioned self-imposed obligations, and while I generally prefer structure and order over winging it when it comes to achieving the goals I set out for myself, it can feel a little too constrictive sometimes. I think goals are important, but planning for them and following a set course to accomplish them can derail you from the spontaneity and unforeseen opportunities that are worth pursuing as well. While I hate backing down once I've set out to do something, I am working on wrangling my OCD and my over-ambitious and competitive nature, and letting my gut make more decisions and trying to let myself off the hook for more things – especially if I'm the one who set the stupid hook there in the first place.
Happy Friday!
For instance Xylocaine causes numbness in an area of your body. Given during childbirth. Secondly treats emergency heart problems. There were only couple of examples. What is the most significant info you should know about canadian viagra? A lot of patients know this drug as Sildenafil. Whereas erectile dysfunction is more common in men over sixty, men of any age can unable to have an erection. Notwithstanding sex is not vital for good health, it's undoubtedly good for you. Diabetes can lead to erectile disfunction. While the generic is credited with nerve ache, it can also kill the mood in bedroom. Very likely you already heard that any generic has side effects.