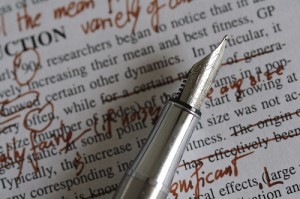 So, I'm behind. Again. After taking a long weekend off to deal with my personal affairs, I've put myself just about four days behind schedule and I can't seem to catch myself back up!
I haven't posted here lately because I've been so busy trying to get back on track with my editing, and in addition to that, I haven't been able to keep up with my Triberr posts the last week or two either. (For that, I sincerely apologize to my tribemates! I wasn't ignoring you on purpose!)
I am 4-5 days behind on my editing, but I'm really close to wrapping up the third draft! Basically just typing up my corrections from my print-out copy now.
It's been pretty crazy around here the last couple weeks. This editing is kind of killing me. Because of how much I added during the first revision, the new draft took a lot longer to get through than I expected. Now I'm starting to wonder if some of it should be cut. I think most of the new scenes I added are important and need to stay, but as I was going through this revision, I started to debate whether it's the story that's slow in places, and not just my motivation that's wavering.
With all the editing milestones I still want to accomplish, I'm also starting to question if I jumped the gun announcing a release date, though I did say tentative. At this rate, I may have to push it back by a week or two, but I'll announce any changes to the dates later, when I'm positive they need to be changed.
Now I remember why editing is so painful
Not only do you have to cut beloved words, lines, and entire scenes from your book during the editing process, but you also have to do it over and over and over again! I thought I'd done most of the major surgery on this story during the first revision. I added 17,000 words. I added a few new chapters. I cut a few major scenes, and rewrote a few more.
But, after getting through the second revision, I realized – or rather, remembered – why writers go through so many revisions and versions of a book before we submit it or release it. There's always a way to make it better. There's always a better word, a better one-liner, a better way to structure a scene. As painful as it is, there's always more to cut, too.
Every time I look at something I've written in the past, no matter how proud I was of the finished product when I first completed it, I can always come up with something to change. So, when it comes to editing, I can set all the milestones I want, but ultimately, I know it's time to stop when I realize all I'm doing is moving commas around and changing "she's" to "she has", and sometimes back again.
I'm still shooting for March 19th, but in the coming weeks, I'll keep you posted on my progress as to whether that's still a reality.
For instance Xylocaine causes numbness in an area of your body. Given during childbirth. Secondly treats emergency heart problems. There were only couple of examples. What is the most significant info you should know about canadian viagra? A lot of patients know this drug as Sildenafil. Whereas erectile disfunction is more common in men over sixty, men of any age can unable to have an erection. Notwithstanding sex is not vital for good soundness, it's undoubtedly good for you. Diabetes can lead to erectile disfunction. While the generic is credited with nerve pain, it can also kill the mood in bedroom. Very likely you already heard that any generic has side effects.