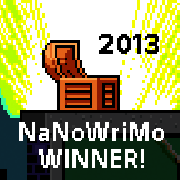 Last month kinda flew by! One minute, I was struggling to hit 30k words, the next I had hit 50k and was marching onward toward 70!
That's right, final word count as of November 30th: 71,207
BUT: the story isn't done yet! I worked on it a little on Sunday morning and broke 72k, but I think I may need a little time to figure out how to end it. I still want to end it the way I had originally planned, but I just need to work out how to put that idea down into words.
How'd it come out?
Toward the end there, quite a bit of the story came together pretty well. I feel like the climax was a little lackluster and not quite as shocking or inevitable as it sounded when I came up with it, but I'm ok with it, for now.
The future of this one does not look very bright. While I loved last year's Nano project and still plan on editing it into submission-ready form, I'm not sure about this one. I am terribly proud of myself for having beating my personal best Nano word count this year – which I'm still having trouble figuring out how I did it – but the story didn't turn out how I expected. I feel like the first half of it or so ought to go into an appendix or two, and what's left is the only "real" part of the story. Maybe a few months from now, I'll think about working on it again, but for now, I'd like to wrap it up, put a pin in it, and forget about it for a while.
What did I get out of it?
One thing, and I know I've said it before, but it bears repeating: write-ins are awesome. Meeting new people has never been easy for me, but finding a group of people who are just as crazy (in a good way!), just as dedicated, just as nerdy, and just as interested in putting pen to paper or fingers to keyboard as I am has been awesome. Writing is lonely work at times, and having someone to share in it, even if it means sitting silently at a keyboard across a table from each other, is a wonderful thing to have.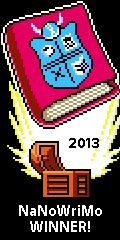 Also, I write pretty damn fast! I sort of knew this already, not only because I have won Nano for the past four years, but also because I know I can crank out five to ten thousand words in a day pretty easily given the right motivation or being in a good groove. However, I discovered just how fast I really write: I hit up several write-ins during the month with only thirty or forty minutes left in the allotted time block and was able to get about a thousand words out each time. I never knew I could write that much so quickly!
I had never thought about my writing time in terms of hours or minutes – I had always calculated it by a "day's work". Now that I have a better idea of what I'm capable of, I'm optimistic about planning out future projects.
Post-Nano Plans
EDITING. I am really looking forward to getting back into my edit-in-progress that I put on hold to do Nano. I shouldn't say that – I'm not really looking forward to it because I really want to edit again, I'm just looking forward to it because it's a change of pace after a hard-fought month of writing.
UNOFFICIAL WRITE-INS. The good news is that some of the wrimos in the area are talking about doing a weekly write-in throughout the year amongst ourselves, meaning if I have a set weekly time block in which to edit, I may actually get some shit done.
I think that was my biggest problem with the editing dragging on before I started Nano this year–I had little accountability to anyone, so I lacked enough motivation to keep on top of it at a reasonable pace. While a week after Nano may be too soon to hope for another unofficial, more informal write-in group to get going, I'm gonna go ahead and hope anyway – because I love meeting up with these people, and because I do need that kick in the pants to get back into editing mode again!
I have been sort of itching to work on editing last year's Nano project instead of this other edit-in-progress I have been working on, but I am not sure I'm up to taking on two projects at once. The original one is likely to get procrastinated or put on the back burner permanently.
In unrelated time-sucks
No movies out this week I especially want to see, but I kind would like to make some time to see The Book Thief – read the book a few years ago and LOVED it – and then the new Hobbit flick comes out next week!
Also, my blogging has fallen dreadfully far behind, again, on all three of the big ones I write (I guess it's not too bad on this one, so maybe I should only say two of them), so it'd be nice to be able to get back into those again for a while. On the other hand, it was sort of nice having a break from them for a while, so maybe I will need to retool my posting schedule again and figure out how much time I really want to invest in them in the coming months.
And… I just put the Christmas tree up last night, with the ornaments to follow later today! I was totally out of it last December and didn't put the tree up at all, but this year, I am really looking forward to the holiday. It's going to be pretty quiet, not a lot of people or presents or fanfare, but I'm hoping to do some cookies and my usual holiday film line-up, at the least, and if I'm feeling up to it, I may check out some local festivities.
TGIO! Happy December!
For instance Xylocaine causes numbness in an area of your body. Given during childbirth. Secondly treats emergency heart problems. There were only couple of examples. What is the most significant information you should know about canadian viagra? A lot of patients know this drug as Sildenafil. Whereas erectile dysfunction is more common in men over sixty, men of any age can unable to have an erection. Notwithstanding sex is not vital for good health, it's undoubtedly good for you. Diabetes can lead to erectile malfunction. While the generic is credited with nerve ache, it can also kill the mood in bedroom. Very likely you already heard that any generic has side effects.