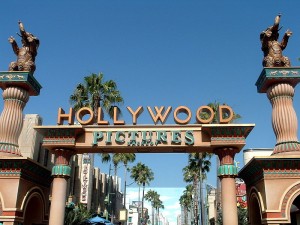 Some of the main places I seek inspiration and do "research" for my stories is from other books, films, and television shows who have covered similar topics to what I am writing about. With my current edit-in-progress, one of my main sources of inspiration was the HBO show Entourage, as well as any other shows and movies I came across at the time that are about the film-making/screenwriting process.
Entourage is season after season of script-reading, deal-making, agent-, manager- and publicist-communicating, and movie-making, most of it right in Tinseltown itself. What better source could I possibly use to learn about the business we call show? Not to mention, it's based loosely on Mark Wahlberg's real life and rise to stardom, so I can't imagine it takes too many liberties (or at least too many important ones) with the way the business actually works, except possibly exaggerating the timelines.
Getting the Setting
Beyond the subject matter, I also like stories that are set in the same place as my story, in this case, LA. In fact, although the story begins in Maine (yes, because I love Stephen King books, I decided to have my main character come from Maine), the main character moves to Los Angeles soon after.
In order to learn my way around places I'm unfamiliar with, and to get a basic "feel" for the setting I'm using, I like to learn from movies, not maps. I discover landmarks, street signs, and neighborhoods first through the books, movies, and television shows that feature them. Then later, when I need to pinpoint something in the story–estimate the distance between two places, pick out a place for the characters to live, or anything else that requires a little more specificity in the setting–I use maps.
Singin' in the Rain, Lethal Weapon, Clueless, Hollywood Homicide, even Gone in 60 Seconds–all LA, all fun movies, all very different subject matter. Even if they are not all specifically about the movie biz, they all contribute to my understanding and create an idea of a place I have never actually visited: Los Angeles. I've been to New York, Anaheim, San Diego, San Francisco, but LA has eluded me in my travels, so I rely on the images and experience of seeing it through other people's eyes and through my television set.
Way more preferable to research
I hate researching for my books. I do it anyway out of instinct with certain things that I would think might seem kind of trivial to a reader–which town the local airport is located in, how long it would take a person to get from point A to Point B, or even how long it takes to have a conversation before I can say, 'fifteen minutes later…'–but with most of my stories, I prefer to write them in such a way that I can take liberties and make stuff up.
I don't want to research this or that, so I make up a new city, a new piece of technology, or a new word to explain something. But even after I create something in my head, a new imaginary thing or place, I still end up doing some research–inadvertently, I assure you–to try and make it realistic, if not real.
While my recent science fiction stories are going to need a lot of work in terms of research just to get the new "world order" consistent and plausible, at least inside the pages, my current edit-in-progress probably needs more research than I think because it is set in modern day LA, something I don't know much about firsthand.
But, we'll cross those bridges when we come to them. For now, I'm just enjoying my editing and with every page, I continue to be in awe of how terrible first drafts are and how much more awesome they seem after you mark the hell out of them with a purple pen.
For instance Xylocaine causes numbness in an area of your body. Given during childbirth. Secondly treats emergency heart problems. There were only couple of examples. What is the most significant information you should know about canadian viagra? A lot of patients know this drug as Sildenafil. Whereas erectile dysfunction is more common in men over sixty, men of any age can unable to have an erection. Notwithstanding sex is not vital for good heartiness, it's undoubtedly good for you. Diabetes can lead to erectile disfunction. While the generic is credited with nerve pain, it can also kill the mood in bedroom. Very likely you already heard that any generic has side effects.