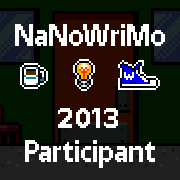 I can't believe it's already October and there were only a couple short weeks left until NaNoWriMo 2013! This year, once again, I'm trying to push my limits, so I'm going to take on a new genre. This will be one of my first horror/supernatural/fantasy types of stories, and it will be the first attempt at a full-length novel in the genre.
Now I know you know last year I put out A 21st Century Fairy Tale, which is technically fantasy, but this is deeper, darker, and a little bit scarier. The premise of the new story is actually something I've been kicking around for a while: it begins with a young woman who is in touch with the other side, meaning she can see, hear and interact with ghosts, demons, and all manners of other worldly entities the average person only has bad dreams about.
It's a curse more than anything else, but the young woman, Ros, has no choice but to maintain the balance – being one of the few people in this plane of existence with the ability to preserve the status quo – to prevent an all-out war, or worse, a coup. You see, in this particular reality, good and evil don't apply. It's more like left and right, rationalism and empiricism, or even conservatism and liberalism. Good and evil are more like an ideological debate about the best way through life than two all-powerful forces guiding the fate of the universe.
What do you think? I'm super excited! I love new territory, and a good, old-fashioned good/evil theme is just what I need. I still need to work through some details and make an outline to get me through all 50k and 30 days of Nano, but I'm looking forward to the challenge!
Edit in progress
I've worked on the story a little bit, but there's still a lot to be done and I'm way behind where I was hoping to be by this time in October. My goal was to be through two thirds of it before Nano started; as it is, I'm just barely over one third of the way through. I'm hoping to get a big break this weekend and maybe next weekend to get some work done, but I still need to have some time to make my outline for Nano, so we'll see how it plays out.
Right now, the biggest thing is rewrites: the chapter I'm working on needs a lot of new material. So much so, I'm going to be splitting it into two chapters. It's mostly character development, filling in the background, and working on timeline cohesion. There's sort of a big anachronism in the second part of this chapter that worked when I wrote it, but after I kept writing, I changed my mind, and now this part needs to be adjusted.
I've been really busy with all the fall premieres on my other blog, so finding time to edit, outline and write has been an uphill battle.
Hey, Buddy…
Are you participating in Nano this year? Add me as a writing buddy!
On a semi-related note: Grammarly is hosting a Nano event on their site called GrammoWriMo, a community-written novel with contributions from writers like you! Learn more about the project and how to sign up on their blog.
PSSST! I'm still looking!
If you are interested in participating in the beta reading process for my sci-fi thriller edit-in-progress, review the synopsis and get a feel for the type of feedback I need, and submit a request if you want to help.
For instance Xylocaine causes numbness in an area of your body. Given during childbirth. Secondly treats emergency heart problems. There were only couple of examples. What is the most significant information you should know about canadian viagra? A lot of patients know this drug as Sildenafil. Whereas erectile dysfunction is more common in men over sixty, men of any age can unable to have an hard-on. Notwithstanding sex is not vital for good health, it's undoubtedly good for you. Diabetes can lead to erectile disfunction. While the generic is credited with nerve ache, it can also kill the mood in bedroom. Very likely you already heard that any generic has side effects.