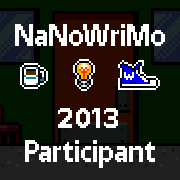 Week two is over, and though it felt like I was in the dreaded slump, I racked up some pretty impressive numbers! I'm averaging about 2,200 words a day, and if today goes well, I want to hit 37,000.
Total as of late last night: 33,021 words
Socializing and Noveling Go Hand in Hand
I've continued going to write-ins this week, and while I didn't feel like I got as much work done this week while I was there, I got plenty done over the weekend last week and somehow during the week as well. Officially, I'm shooting for 60,000 words; unofficially, I'm still hoping I can break 70,000 by the 30th!
Today is the Halfway Party, so I'm headed on a mini-road trip with a fellow wrimo this afternoon to meet up for some food, sociability, and maybe even a little writing.
Conjuring a Perfect (Plot) Storm
Despite having aged my main character into her twenties, she still asks a shit-ton of questions. It moves the plot, and at least her naivety helps the reader keep up with what's going on, but I feel like she needs a good battle to show she's not a kid anymore and is actually the kickass heroine I set her out to be.
I also discovered a good twist to work in. My plan this week was to keep throwing wrenches at my main character just to trudge through my word count, and I stumbled upon a couple of good obstacles that actually make it seem like it was my plan all along. (Mwahahahaha! I love it when that happens!) It's a weird phenomenon, not really a result of inspiration or planning. Sometimes, you're just going along, writing a scene, and you make a decision and it turns out to be a perfect, brilliant turn of events.
I would like to say I've gone completely off-script as far as my outline is concerned, but that wouldn't be entirely true. My outline was purposely left vague in places so I could fill in the details as I went along, but I'm always a little surprised at the roads traveled in pursuit of my overall plot. I have had a couple points at which my story has veered off course from where I had originally intended, but whether they were good or bad decisions, I've managed to work my way through them all right. So far.
The Weekend Ahead
I did see Thor: The Dark World last weekend, and it was awesome! The movie itself was a lot of fun, and despite a new director, it felt very much like a natural follow-up to the first. Also, I was far more impressed with the trailer for the Captain America sequel on the big screen than I was when I watched it on my computer. I was disappointed with it at first (I have a soft spot for Captain America, nostalgia and all), but now I'm excited–April is too far away!
(This calendar only reports your daily word count, red for below 1,667, green for exceeding it, and yellow for achieving it or coming really close. So although I haven't hit 1,667 words every day, I've gone way above and beyond it on the green days.)
Other than the Halfway Party, the only plans I have this weekend are for staying on top of that word count! Speaking of which, I've got a global catastrophe and an extra-dimensional war to plan, so it's back to work!
For instance Xylocaine causes numbness in an area of your body. Given during childbirth. Secondly treats emergency heart problems. There were only couple of examples. What is the most significant information you should know about canadian viagra? A lot of patients know this drug as Sildenafil. Whereas erectile disfunction is more common in men over sixty, men of any age can unable to have an erection. Notwithstanding sex is not vital for good soundness, it's undoubtedly good for you. Diabetes can lead to erectile disfunction. While the generic is credited with nerve ache, it can also kill the mood in bedroom. Very likely you already heard that any generic has side effects.