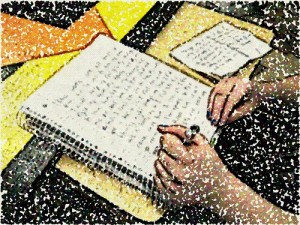 Photo by Denise Krebs.
When I first started writing, becoming a rich and famous published author was a pipe dream. I didn't write because I thought I would ever achieve that. I wrote because I enjoyed it – because I love telling stories, and writing is my favorite way to do it.
Since I got into self-publishing, that enjoyment got sucked out of the process a little bit because of how challenging and unenjoyable some of the other parts of the publishing process are for me. Marketing is probably my least favorite part because I hate feeling like a salesperson, but the file formatting and even the editing can get tedious, and they are definitely much less fun than the writing part!
How to get the fun back
You gotta love it. You gotta want it. You have to try new things, change up the routine, and write with reckless abandon to get back to the real WHY of why you write. Though the self-publishing experience is the first time that writing ever felt like work instead of fun for me, it's also done wonders for my motivation.
When I got bored with a story in the past, I would just stop working on it. I'd add the file to an archive folder on my computer and never look at it again. Since I started self-publishing, I feel more compelled to finish what I start. I'm also a little more careful about the ideas I choose to start working on in the first place and I map them out more extensively than I used to. But my motivation to finish what I started has grown immensely over the past year.
Part of that has to do with accountability. Telling you what I'm working on here on the blog makes me feel more responsible with regard to my writing. But, I also feel like I approach my writing differently than I used to. I don't feel like I'm just writing for myself anymore. I'm writing for someone else – the hypothetical someone who might someday read that story. It's through that idea that I have developed better writing habits and strategy. Even if I don't publish every single thing I write, at least I feel more secure that the story is a good enough start that I could publish it if I wanted to.
Instead of just giving up on a story I get bored with, I try to pinpoint what is making me bored and shake things up. I figure out where the story is going wrong and I set it back on the right track – a more interesting track.
I think the additional plotting, outlining, and the concept of an audience has made me more connected and more attached to my characters. I feel more committed to finishing their story. Somehow, I've grown to love the overcoming-writer's-block part just as much as the muses-are-smiling-on-me part of the writing process.
As difficult as writing can be, as stubborn as the words are at times, and as humbling as the process might be, I am so grateful that I've found something that I truly enjoy doing. I may never be rich, famous, or published through the "traditional" channels, but I'll always have something meaningful to do with my time and something meaningful to show for it.
Why do you write?
For instance Xylocaine causes numbness in an area of your body. Given during childbirth. Secondly treats emergency heart problems. There were only couple of examples. What is the most significant information you should know about canadian viagra? A lot of patients know this drug as Sildenafil. Whereas erectile malfunction is more common in men over sixty, men of any age can unable to have an erection. Notwithstanding sex is not vital for good soundness, it's undoubtedly good for you. Diabetes can lead to erectile dysfunction. While the generic is credited with nerve pain, it can also kill the mood in bedroom. Very likely you already heard that any generic has side effects.