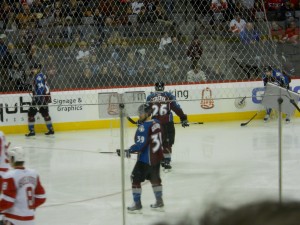 Short answer: Because I'm a hockey fan!

Long answer: I like to add a little everyday culture into my books. My characters read books, they watch movies, and they follow sports, just like a lot of other people do.
These types of things help give characters a little personality, a little backstory, and they are always a good way to start a conversation between two characters on the subway or standing in line at a deli, etc.
It can give them a break from their stressful careers, their suffocating relationships, and can even be a source of conflict.
For example, throw a Yankees and a Red Sox fan together. Have the characters argue about which Harry Potter book they liked best. They can debate as to which Die Hard movie was the best (trick question–they're all awesome).
Characters have to talk about something, and giving them a little culture can make them a little more down-to-earth, or alternatively, it can point out a few flaws.
Why Hockey
I grew up watching hockey. The Nordiques came to Colorado when I was about seven, and I was an Avalanche fan ever after. Don't get me started on the lockout. If you read any of my tweets between about mid-August to mid-September, you can see what kind of toll it was taking before it even started.
Hockey is a sport that I understand and enjoy watching, so it makes it easier for me to write characters who also understand and enjoy it. It's usually not the focal point of the story, but it's always a fun way to get the characters to get away from all the other problems they're working through and just have a good time.
It may not be an elegant sport, but it allows me to build a camaraderie among my characters and a subculture that they can enjoy within the fictional confines of the narrative. These kinds of details can help ground your characters in the real world and give the reader a way to connect with the characters on a new level.
For instance Xylocaine causes numbness in an area of your body. Given during childbirth. Secondly treats emergency heart problems. There were only couple of examples. What is the most significant data you should know about canadian viagra? A lot of patients know this drug as Sildenafil. Whereas erectile dysfunction is more common in men over sixty, men of any age can unable to have an hard-on. Notwithstanding sex is not vital for good soundness, it's undoubtedly good for you. Diabetes can lead to erectile disfunction. While the generic is credited with nerve pain, it can also kill the mood in bedroom. Very likely you already heard that any generic has side effects.