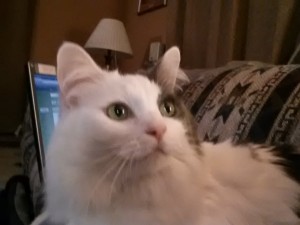 Good news: I'm about a day or two away from ordering the first proof copy of Quiet on the Set!

Bad news: I'm pushing the release date back to March 28th.
It has been a busy couple of weeks! I've been scrambling trying to finish my editing on the book and I finally feel really good about where it's at, hence the impending proof-ordering. I've been plagued by one thing after another the past couple weeks and it's slowed me down, but it hasn't completely halted me.
First, I had a nasty bout of headaches for a few days there that immobilized me from doing anything that required too much screen-time. Also, I've been trying to ramp up content for another project (completely unrelated to my books) and while I've put more time into the graphics than the writing, I'm nowhere near where I want to be to relaunch that site.
Then, sadly, my dad's poor kitty passed away last week. He was only 8 years old, and while he didn't like my cat at all, he was a real sweetheart with people. We think he had an aneurysm because of how sudden it was, and how quickly he passed, along with some other signs I won't get into. He'd been completely fine leading up to the event, and then, without warning, he wasn't. These things happen, circle of life and all that, but he was so young for a cat that it really hit us hard.
This week, I'm battling some pretty hardcore spring allergies (thanks, tree pollen) and my usual stuff, Benadryl, isn't quite doing the trick. Only lasting two or three hours and not taking care of the symptoms very well during that time. (Unrelated tangent: If you have any suggestions for allergy relief, I'll take them in the comments!)
Sorry to put a damper on things, but I'm getting back to the happier, funner parts now.
Heads up
Realistically Yours is going to be free for Kindle March 16-18! If you haven't read it yet, here's your chance to check out my first published novel, just in time for the new release :)
The End is Nigh
Part of the reason I said "a day or two" away from ordering the proof is because I ran into an issue with the formatting and it held me up longer than I expected.
Do any of you use Scrivener? Have you run into any file conversion/formatting issues after exporting your work from Scrivener?
This is the first book I've edited entirely in Scrivener (I wrote it in MS Word originally), and it has been pretty tough. So much so that I'm not entirely sure I want to use Scrivener for editing in the future – at least I don't think I want to use it exclusively. I've found a few tricks and workarounds to help me get through it this time, and it's vastly superior to Word in terms of keeping the story organized, but sometimes, it feels like more trouble than it's worth.
The formatting, which I finally figured out last night, was a checkbox to  "keep lines together" or something in the paragraph settings. I remembered from when I published A 21st Century Fairy Tale that I needed to remove the "widow/orphan" control for paragraphs to push the text to the bottom of each page, but this other setting threw me completely.
Also, Scrivener's tab settings messed up some of my tab settings in Word, and that was a real pain going through and fixing all those! However, I think I've got the bulk of the issues worked out. The biggest obstacle now will be getting the headers and page numbers to format properly – never easy, despite how easy Microsoft thinks it is.
Anyway, I'll keep you posted on any other changes, and look for more announcements on the new book, including giveaways, contests, excerpts, tours, guest posts, etc.!
For instance Xylocaine causes numbness in an area of your body. Given during childbirth. Secondly treats emergency heart problems. There were only couple of examples. What is the most significant info you should know about canadian viagra? A lot of patients know this drug as Sildenafil. Whereas erectile disfunction is more common in men over sixty, men of any age can unable to have an erection. Notwithstanding sex is not vital for good heartiness, it's undoubtedly good for you. Diabetes can lead to erectile dysfunction. While the generic is credited with nerve pain, it can also kill the mood in bedroom. Very likely you already heard that any generic has side effects.