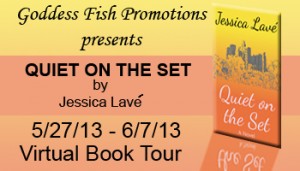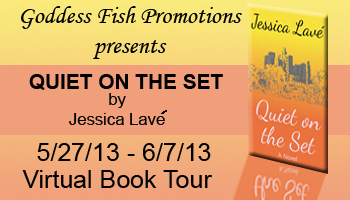 It's incredible that it's already half over! But, there are plenty more fun things to come this week: six stops, including one audio interview, two written interviews, and three guest posts!
Once again, instead of posting a new blog every day, check THIS post or the main tour hub page for the day's new links which I'll be posting daily as they go live, as well as posting the new tour stop on Twitter.
Follow along, leave any thoughts, reactions, or questions in the comments on the host's blog, and don't forget, your comments enter you to win a $20 Fandango gift card!
Day 6 (continued from last week): June 3
Audio Interview with The Bookcast
or listen to the interview on iTunes, titled "Life, Love, and Business in Hollywood"
I had a wonderful conversation with Bill from the Bookcast discussing Quiet on the Set. We talked about the book, what it's like to write in the new adult genre, and who might play the main character should there ever be a movie… It was a lot of fun, so I hope you'll head over and give it a listen!
Day 7: June 4
Guest Post at Long and Short Reviews
This was an interesting topic for me: what scares me the most as an author. Not an easy question to start with, and not an easy one to talk about to the entire internet world, but it's honest. Head over to the blog to read about my biggest fear.
Interview with Andi's Book Reviews
In this interview, I got to discuss writing Quiet on the Set, as well as my other books. And, I explain a few of my other favorite things… Check it out!
Day 8: June 5
Interview at Love, Laughter, Friendship
This interview will probably tell you more about me than you ever wanted to know! Everything from beer to books to my favorite food. Enjoy! PLUS: the host decided to read and review the book as well! Check out the 5-star review toward the end of the post!
Day 9: June 6
Guest Post on Tina's Book Reviews
What do I listen to when I write? Once again, I have pretty eclectic taste, but I like to think it's in tune with my style and my writing.
Day 10: June 7
Guest Post on It's Raining Books
The last day! By this time, you'll have gotten to know me pretty well over the last couple weeks, but this last post is five things you might not know, or might not have guessed, about me.
~ ~ ~ ~ ~
Thank you again for your support! I hope you enjoy the rest of the tour, and feel free to leave comments or questions here or you can tweet me @jessinsists! I'll be looking in on the tour stops and my social media networks throughout the week.
There will be another recap post at the end of the tour, so stop by again soon!

For instance Xylocaine causes numbness in an area of your body. Given during childbirth. Secondly treats emergency heart problems. There were only couple of examples. What is the most significant information you should know about canadian viagra? A lot of patients know this drug as Sildenafil. Whereas erectile dysfunction is more common in men over sixty, men of any age can unable to have an hard-on. Notwithstanding sex is not vital for good health, it's undoubtedly good for you. Diabetes can lead to erectile disfunction. While the generic is credited with nerve pain, it can also kill the mood in bedroom. Very likely you already heard that any generic has side effects.