I've been busy on some things, and lazy on some other things. For one thing, I spent a little time out of the house this past month (yay for not being a crazy recluse writer!), and volunteered at the Denver UMS (Underground Music Showcase). It was my first time at the festival at all, so I wasn't sure what to expect, but it was actually a lot of fun! I met some great people and got to enjoy some great music.
I also checked out a friend's open mic night at the Mercury Cafe a couple weeks back. We haven't seen each other since high school, and it was great to see him (and a couple other familiar faces) after so many years, but it was really great to see him play! He took some of Marilyn Monroe's poems and set them to music, and the sound and vocals reminded me a little bit of an early, acoustic Bob Dylan.
Aside from that, I've been writing my brains out working on my Camp Nano story. In any case, it's about time I got back here and posted a little bit about what's going on in this little writing world of mine.
Camp Nano: July
Winner, winner, chicken dinner! I reached my goal! I set it 10,000 words higher than my April Camp goal at 25,000, and made it with a few days to spare. It was pretty easy to get there, but I did ignore my blogs (including this one) pretty blatantly for most of the month to get there. I'm trying to get back on track with the blogging and I'm working my way there, but, as usual, I've still got a lot to do and a long way to go.
Ebook Giveaway: Quiet on the Set
I thought I'd mention it (though it's over now), because I was so pleasantly surprised by the book's ranking in the Top Free Ebooks list during the time of the giveaway! I haven't paid attention to the book rankings on the previous giveaways (mainly because I didn't really know where to look for them), but Quiet on the Set made it at least as high as #57 on the top free ebooks list in Women's Fiction! (I say "at least" because there's a chance it might have been higher on the days before I thought to look at it.) It dropped rather quickly, and I didn't think to look until the third day of the giveaway, but it was cool seeing it in the top 100.
The Quiet on the Set Scavenger Hunt
So… I'm thinking my scavenger hunt must have been too intimidating because nobody entered. Ergo, no winners to announce :( I didn't do a lot of promotion for it, so the lack of entries may be on me. Still, it makes me sad, because I had really hoped the contest would be a fun way for you all to get to know the book and some music and pop culture stuff that I'm interested in and that inspired me while I worked on the book. Since nobody entered, I'm NOT posting the answers, in case I want to do it again, maybe with less intimidating questions and fewer required answers ;)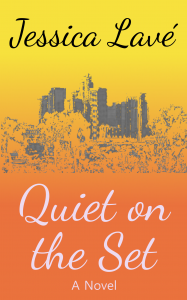 On a semi-related note, I just did the scavenger hunt from Chipotle, and that one was murdersome hard! I didn't win, and the puzzles and questions got so frustrating at times that I started to wonder about my own scavenger hunt and whether it was as hard as this one. Considering there were no entries at all, not even half-assed attempts entering wrong answers, I can't really learn from the experience (again), not knowing where I went wrong with it.
Writing/Editing in General
Ummmm… About that….
Since I reached my Camp Nano goal last weekend, I've been redirecting my attention to the blogging, so I haven't done any work on my fiction for about a week. I still have the itch to write, and while I want to continue my July Camp Nano project and finish it, I also have an itch to work on another story I've had in mind. The problem is, I was going to save that one for November (i.e. official Nanowrimo)! So, it would have to be just research on that one for now. And, I'm also feeling close to ready to work on editing one of my stories from last year.
But, I haven't done that yet. As far as the editing is concerned, I think I'm a little hesitant to look at my past writing again. Partly because I know just how long the process is going to be this time. This is going to be the most hardcore editing I've ever done, partially because I want to kill it and make the story the most awesome thing ever, and partially because it's a different genre from my previous writing, and there will likely be massive amounts of research involved.
I'm looking forward to it, but also majorly dreading it, mostly because of the time commitment. It's going to be tough to stay on track for that long, and the anticipation is probably going kill me.
Speaking of editing…
If you want to be a beta reader/critique reader for my new story, contact me and tell me:
a little bit about yourself
why you're interested
any relevant links to your social media/blogs/websites
and any experience you have (blogging/reviewing/critiquing, etc.)
I'm looking for readers who will be brutal, but CONSTRUCTIVE (i.e. you can't just tell me you hate something, and not explain what it is you hate). Learn more about the book here, and see if it's something you'd be interested in. (Title is most definitely subject to change.)
One last note
I finally found an email subscription service that fits with what I'm looking for, so be sure to sign up for the newsletter in the little block in the sidebar, or visit the sign-up page directly for exclusive news, updates, and discounts! (Newsletters are sent about once a month.)
Happy August!
For instance Xylocaine causes numbness in an area of your body. Given during childbirth. Secondly treats emergency heart problems. There were only couple of examples. What is the most significant info you should know about canadian viagra? A lot of patients know this drug as Sildenafil. Whereas erectile dysfunction is more common in men over sixty, men of any age can unable to have an hard-on. Notwithstanding sex is not vital for good soundness, it's undoubtedly good for you. Diabetes can lead to erectile dysfunction. While the generic is credited with nerve hurt, it can also kill the mood in bedroom. Very likely you already heard that any generic has side effects.