I have a few ideas about what I want to do on the blog here in the coming year, but first, let me get round to what I have been doing lately:
Procrastination/fun stuff
NaNoWriMo is over, and I did finally finish my story, but I had one last little update to do, and that's done now as well. I put an excerpt from the beginning of the story over on my profile/novel page on the NaNo website. It's pretty fun, so have a quick look if you're interested: No Soul to Sell excerpt
Semi-random sidenote regarding the holidays
My holiday mood improved this past week when I was finally able to employ some of my traditions. I watched a few of my favorite holiday movies, though I missed one that was on TV (my DVD is in effing storage!!), and I made a SHIT TON of cookies! I got a little molasses-crazy and made gingersnaps and gingerbread cookies, and then I found a recipe for gingerbread biscotti and decided I wanted to make that, too (haven't done that one yet, because biscotti is a bit of a job, but I have leftover frosting ready and waiting!).
I make a damn snappy gingersnap. #cantstopeatingthem #sugarjones

— Jessica Lave (@jessinsists) December 27, 2013
Christmas itself was pretty laid back, just a few presents between me and my dad, but he absolutely LOVED the cookbooks I got him, so that was great. He's one of the hardest people to shop for, and even harder to get him something he really loves and isn't just content with, so I was pretty pleased/relieved with my gift-selection skills this year. (It was a set of 3, including this one, in case you were wondering.)
Editing: a few steps back before a huge leap forward
It was a rough time working on this particular chapter, but I finally got through it! This was the chapter in which my timeline got supremely and quite astoundingly fucked up. I had started writing one of the subplots with one goal in mind, and then as I got to a later part of the story, I realized that my original plan was flawed.
What did I do? I did what any self-respecting wrimo would do: instead of going back and rewriting, wasting precious momentum and time, I went right ahead with the new plan, writing as if it had been that way all along, knowing I could fix the first scene of the subplot later when I got around to the editing. Man, that was a stupid idea.
I must have spent three or four hours, minimum, Sunday afternoon/evening trying to sort out this stupid anachronism. I had rearranged part of it, moving a later scene to an earlier place, but I actually had to print out six pages of the chapter and cut them into little strips, almost paragraph by paragraph, and rearrange them like notecards on a pinboard, before I finally figured out how to make it work.
Making progress. Slowly. Oh, and I solved my timeline/dual monitor issue. #scissors #editing #cutandpaste #literally pic.twitter.com/svIW9SX7U6

— Jessica Lave (@jessinsists) December 23, 2013
On top of that, I had to write a new scene explicating some of the details of the new story angle. However, that part turned out awesome. Writing the end of that new scene almost made the maddening process of sorting out the screwy timeline problem worth it. Almost. It was a really great scene, with an end that is just too much fun, but that timeline problem was painful. I think that was the biggest hurdle, though – at least as far as the timeline is concerned – so I'm hoping I won't have to resort to the notecard/pinboard strategy for the rest of the story.
It never ceases to amaze me how much I mark up my own writing when I edit. I'm pretty brutal on other people's writing as well, especially when it comes to the nuts and bolts – e.g. grammar, punctuation, and spelling – but I thought I tended to give myself a little more leeway with my fiction, mainly with regard to style. And yet, some of my printed-out pages are just as scribbled on, scratched out, and note-laden as pages I read over for friends or colleagues.
That, for some reason, is the most satisfying part of editing for me: I love messing up the page with notes and scribbles. It's the part where I actually have to go in and fix those things in the digital document that's no fun. I find it tedious. So much so that I often dread rewrites or having to add new scenes/descriptions, which is strange, because I love writing any other time – it doesn't even matter what it is, most times – and those rewrites/additions usually turn out really well.
In any case, I'm also hoping I can get the rest of the draft done within the next few weeks. (Cue laughter.) I have a ton of blog-related stuff to catch up on, and by then I'll be well into my 2014 reading challenges, but I'm hoping to manage my time to be able to get through editing about a chapter a week. They're sizable chapters, but still, it's not that much that it should be an unreasonable goal.
The PLAN for the coming year
You thought I forgot what I mentioned at the beginning, didn't you? Well, I almost did, so, good call.
With everything else going on, I have absolutely no intention of posting any more frequently than I already do to the blog, which is about once a week. However, I want to try a couple of new things and see how they go.
I still want to do a post or two a month to keep y'all up to date on what I'm up to with regard to writing, publishing, editing, etc. In addition to that, since I'm already planning on reading a shit-ton of new books next year, I'd really like to start doing reviews here as well. This isn't a book blog and won't ever be one, but I'd like to incorporate what I'm reading into the blog somehow, though I probably won't post full reviews here. And, I'd like to do another post about once a month of flash fiction/short stories/poetry, if the muse descends. I'd like to keep my hand in on the writing side of things while I'm busy editing, and I think a quick snapshot of creative writing every now and again might be fun. Unless you guys start telling me it sucks. Then my fragile ego might have to go back into internet hibernation.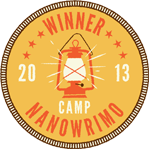 Also, I do plan on doing Camp NaNoWriMo again this year, partly because again, it is nice to have a break from the editing and blogging to nerd out and write like crazy for a few weeks. I am not sure what I want to write for either session, let alone for next November, but I have a couple ideas floating around, and I never did finish last July's Camp project, so maybe I'll pick that one up again. Or I could be a rebel and use the Camp structure and motivation to charge forward with my edit-in-progress (haha, gotcha :)
Blog plan 2014

Recap and update on my progress on my writing, editing, publishing, giveaways, etc.
Flash fiction/short story/poem
Book reviews/discussions as they pertain to whatever I'm reading at the moment
NaNoWriMo plans 2014

Camp NaNo (spring): finish last summer's story project?
Camp NaNo (summer): no fucking clue
NaNoWriMo (November): Ask me in October
You can stop reading now. This has nothing to do with writing.
Seeing as I work on/with/(in?) the internet so much, I'm learning more about it and how it's put together, link by link, tag by tag, header by header. This is on top of all the other shit I am already doing, am signed up to do, or generally intend to do in the coming year. But you know what? Sometimes you just gotta say what the fuck and go for it.
It's like this: I never understood those kids in high school who were in three clubs and two extracurriculars and volunteered on the weekends AND had time to get all their homework done AND still pulled good grades. But they did it. And they looked SUPER happy doing it, so, I'm becoming one of them, eight years later.
And on that note, just to let you know I have completely lost my mind as it pertains to scheduling and particularly reading, I just checked out an ebook (mostly to see if I could rather than with the full intention of reading it) for my Kindle from my local public library with half a mind to go to the book discussion on it in February.
It is five minutes at a time.
I'll let you know if/when I run out of steam.
Happy New Year! Please drunk dial, and whatever else you're going to do, responsibly :)
For instance Xylocaine causes numbness in an area of your body. Given during childbirth. Secondly treats emergency heart problems. There were only couple of examples. What is the most significant info you should know about canadian viagra? A lot of patients know this drug as Sildenafil. Whereas erectile disfunction is more common in men over sixty, men of any age can unable to have an erection. Notwithstanding sex is not vital for good soundness, it's undoubtedly good for you. Diabetes can lead to erectile dysfunction. While the generic is credited with nerve hurt, it can also kill the mood in bedroom. Very likely you already heard that any generic has side effects.