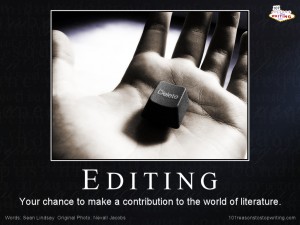 You know #ThatAwkwardMomentWhen you have to cut entire pages from your story because they suck? It happens all too often in the editing process, or it should. Some sections of your book just don't come out that well. Maybe you were tired. Maybe you were on a roll and ran off on a tangent. Maybe you had a plan to take the story one way and it didn't work as well as you thought.
No matter what the reason is, cutting is an important part of editing. Whether it's a word, paragraph, or an entire scene or character, it will ALWAYS make your story better.
Why? Because five great words are always vastly superior to ten mediocre ones.
How do you know which parts to cut?
Easy: The ones you like the most. Harsh, but true. A lot of the stuff you love in your story is often fluff. It's you getting lovey-dovey with your words. Going all poetic with no reason other than you feel like it. It's not a bad thing to get a little flowery sometimes, but when you go back over it in the editing process, think about whether that flowery language moves your story forward. If not, out it goes.
I'm extremely guilty of being long-winded. My occasional six or seven hundred word blog posts should have tipped you off on that. However, I have had plenty of experience cutting a thousand words in half, bringing 300 characters down to 140, and making a wordy piece of writing clean and concise. One of my favorite college professors taught me the importance of conciseness. Instead of rambling to try to push a topic to ten pages, I'd have discuss a topic in under five hundred words.
It's not easy cutting your words, or as painful as it may seem, pages, out of a story you've put so much time and effort into, but with time and experience, it becomes easier to see how unnecessary and indulgent a lot of writing is. It's better to be brutal and cut it rather than hold onto it for your own peace of mind. Your story will be better for it, and your readers will thank you.
For instance Xylocaine causes numbness in an area of your body. Given during childbirth. Secondly treats emergency heart problems. There were only couple of examples. What is the most significant information you should know about canadian viagra? A lot of patients know this drug as Sildenafil. Whereas erectile dysfunction is more common in men over sixty, men of any age can unable to have an erection. Notwithstanding sex is not vital for good soundness, it's undoubtedly good for you. Diabetes can lead to erectile disfunction. While the generic is credited with nerve pain, it can also kill the mood in bedroom. Very likely you already heard that any generic has side effects.