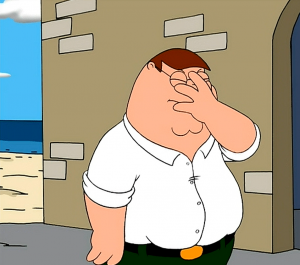 Photo courtesy of Know Your Meme
I've been feeling like I have some pent-up creative energy after editing for so long. So, last night, I snuck in a little writing… and it was AWESOME. I feel a little guilty considering I still have a lot to do before my new book comes out, but just that little bit of writing and prep was desperately needed.
After looking at the same story for so many months, and then most recently, battling MS Word auto-formatting and doing little more than moving a few commas around, the opportunity to write a bit of a story – not just a blog post – was uplifting, and a refreshing change of pace.
It was kind of like that feeling after you've been riding in a car or a bus for twelve hours, and then the car stops to get some gas and you get to get out and stretch your legs for a few minutes. Tiny miracles.
Though, looking at what was accomplished in terms of word count, it doesn't feel like I actually did that much. I put together a couple character outlines and a rough plot outline, and then I wrote about two pages. Not much in the grand scheme of things, but the process and experience of creating the outlines and writing just a couple hundred words was transcendent.
I know it sounds like I'm describing a religious experience and that may sound a little funky, but for me, writing is my meditation, my Aha Moment, my nirvana. I have missed it, and if this new story keeps going as well as it started out, I may be onto something… :D
Back to Business
The proof is on its way, and I've already added and created the giveaway on Goodreads, as you may have noticed the new widget on the home page. It'll be 4 copies, US mailing addresses only, and it will run through April 14. Sorry to everyone international, but did you know it would cost anywhere from $24-45 US to ship to Canada or the UK?? But, as soon as I can, I'll list an ebook giveaway for Quiet On the Set and you international readers can download the digital copy for free.
You may have noticed some changes to the website here – I've updated a few things on the home page like adding a recent posts section, and I just published the new book page for Quiet on the Set under the main menu. More changes to come as I update my tour page when the details for the event are finalized, the home page will change to feature my new book and description, and probably a few more changes to the sidebar are on the way!
What's Up Next
I'm still planning on doing a blog tour, and I'll be contacting people and getting that organized over the next couple weeks. First up, I'll be visiting Ara over at My Book and My Coffee for a cover reveal and book feature later this week, and then we're doing an interview and ebook giveaway hosted on her blog next week after the book is released. Links to come!
Another goal for the week is to choose some excerpts and quotes from the new book to post here and on Goodreads, so you can look forward to checking those out, too.
Happy First Week of Spring, everyone!
(Spring officially starts March 20)
For instance Xylocaine causes numbness in an area of your body. Given during childbirth. Secondly treats emergency heart problems. There were only couple of examples. What is the most significant information you should know about canadian viagra? A lot of patients know this drug as Sildenafil. Whereas erectile dysfunction is more common in men over sixty, men of any age can unable to have an erection. Notwithstanding sex is not vital for good heartiness, it's undoubtedly good for you. Diabetes can lead to erectile malfunction. While the generic is credited with nerve pain, it can also kill the mood in bedroom. Very likely you already heard that any generic has side effects.