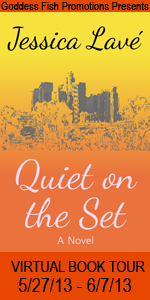 Starting May 27th, I'll be heading out on the information superhighway to promote Quiet on the Set! I'm super-excited, and a little nervous, but I think it's going to be a lot of fun. The stops haven't been announced yet, but I'm looking forward to meeting some new bloggers and readers! I've signed up to do guest posts and interviews, so I'll be writing up a storm over the next few weeks to post at all the tour stops. On top of Camp Wrimo. Needless to say, I'll be busy, busy, busy!
In Other News
Since I don't know many details about the tour yet, I'm going to switch over to my current project, the book I've been working on for Camp Nano. I think it's going to be a novel, but I may not quite get the word count for that. I set my word count goal really low (only 15k for April) because I wasn't sure how busy the book tour was going to keep me and because I don't know how far this story is going to go. It's an interesting story, to me, anyway, but it may work better as a short story or a novella than a full-length novel. I certainly don't expect to finish the story by the end of the month, no matter how long it comes out.
The idea for it came from an image at the beginning of an episode of the X Files. Krycek was in a prison in Eastern Europe or Russia or something when Marita comes and gets him out, at the request of CSM. I don't always remember where my initial spark of inspiration comes from, but I actually made a note on this one to keep in mind for later. (I'm still afraid of failure starting that screenplay, so I picked this one up instead to work on.)
My main character wakes up in a place he doesn't recognize – cold, hurt, and cut off from everyone he knows. He doesn't realize it's a prison until later. He doesn't understand why he's there until even later. However, he's a good person, a doctor, and he has friends. His best friend realizes he's gone missing when my main character doesn't show up for their meeting. When the usual channels don't give him any answers, his friend finds a journalist interested in helping and willing to travel halfway across the world to track down the good doctor.
It's terrifying, unpleasant, and painful to tell a story about an ugly place and the things that go on there, and it's difficult to achieve the emotional level of the worried friends back home. I've also got two of the three main characters as Brits, so getting into that mindset, using the vocabulary, slang, and accents (don't worry, I'm not going hardcore Twain dialect with it), is also a challenge.
I've always thought my British English language comprehension was pretty good, but I've been reading a friend's book lately, and it's left me a little humbled. I have to look a lot of words up (not all of them are British slang, either!), and that's a bit unusual for me because I love big and unusual words. I like to think I have a decent grasp on linguistics to be able to figure out a word based on its parts without looking it up – part of what makes me so good at Jeopardy – but I think part of what's keeping me from powering through this book (it felt a little slow in places at the beginning, but I'm really enjoying it now!) is the vocabulary.
While I'm pretty sure I'll be able to hit the 15k word goal I set for Camp Nano, I'm still not sure I have 50-75k words in me with respect to this particular story. I may need a little more plotting to be able to coax the story into a novel rather than a short story, but I'm playing it by ear to see whether it wants to be a novel first. That may sound strange, like the book has a mind of its own, but – perhaps oddly – it does.
More news on the tour when I get it!
For instance Xylocaine causes numbness in an area of your body. Given during childbirth. Secondly treats emergency heart problems. There were only couple of examples. What is the most significant info you should know about canadian viagra? A lot of patients know this drug as Sildenafil. Whereas erectile malfunction is more common in men over sixty, men of any age can unable to have an erection. Notwithstanding sex is not vital for good soundness, it's undoubtedly good for you. Diabetes can lead to erectile malfunction. While the generic is credited with nerve ache, it can also kill the mood in bedroom. Very likely you already heard that any generic has side effects.