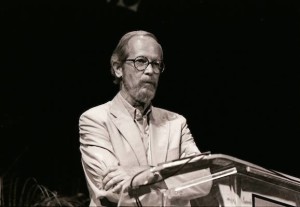 I checked my email this morning and saw I had a news update from the New York Times. The headline read: "Breaking News: Elmore Leonard, Novelist Who Elevated the Status of Crime Thrillers" and then it was truncated. I had to open it to see the rest, but I already knew what the end of it was. One of the greatest writers of the 20th century had passed away. Seeing as the man has had such a huge influence on my life and my writing, I had to put together a post to share my sadness at losing a legend, but also to share some wonderful memories and to share a few of my favorite books.
The man was insane at writing dialogue, awesome at creating powerful characters – especially female characters, and nobody wrote a smooth operator or wiseass better than Elmore Leonard. I haven't read all of his books yet, but there's a memorable line or character or scene (or all three) in every one of them.
Last year (February, I think), I actually met him in person at a signing down in Lone Tree. I'm glad I found out about it, and I'm glad I drove all the way down there to see him. I couldn't afford the new book that he was promoting (Raylan), but I brought a copy of one of my favorites, City Primeval: High Noon in Detroit, and got it signed.
At 87 years old, I can't say I'm surprised he passed away now, but it makes it no less sad for his family and the readers and fans who loved his books and the films they spawned.
Here are a few of my favorites, but I think everyone who reads his books finds their own favorites for different reasons.
City Primeval: High Noon in Detroit
The Hot Kid
Get Shorty
Killshot
Riding the Rap
Glitz
The Hot Kid was one of the first books I read of his (The Switch was the first). It was that book that got me hooked. I got my hands on every one I could find. Some new, most used (hence some of these backdated editions), but all entertaining. I've seen a lot of the movies based on his books as well. Though some of the movies really are great (like Get Shorty, Justified (TV), and Jackie Brown (based on Rum Punch)), they still can't beat the books. The characters are so much funnier, so much smarter, and so much slicker in the books than they could ever be in the movies. Timothy Olyphant does come close, but perhaps that's because he's had four seasons to become Raylan Givens, while people like John Travolta and Pam Grier only had one movie to try and get it right.
I send my condolences through the interwebs to Leonard's family and close friends, and to the rest of the readers and fans like me, let's all take a moment to thank the universe for making it possible for us to experience the brilliance of a man like that.
Take it easy, Mr. Leonard. You've earned it.
-J.L.
For instance Xylocaine causes numbness in an area of your body. Given during childbirth. Secondly treats emergency heart problems. There were only couple of examples. What is the most significant information you should know about canadian viagra? A lot of patients know this drug as Sildenafil. Whereas erectile dysfunction is more common in men over sixty, men of any age can unable to have an hard-on. Notwithstanding sex is not vital for good health, it's undoubtedly good for you. Diabetes can lead to erectile disfunction. While the generic is credited with nerve pain, it can also kill the mood in bedroom. Very likely you already heard that any generic has side effects.