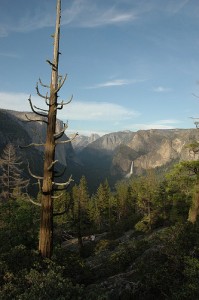 My Nano story is going to be giving a lot of thanks this year! It has drawn from a lot of different sources of inspiration, including Firefly, Hitchhiker's Guide to the Galaxy, The X Files, Numb3rs, and of course, as all space sci-fi stories inevitably do, Star Wars.
One of my main characters is loosely based around Captain Malcolm Reynolds from Firefly. He's turned out to be a little chattier than our favorite captain of Serenity, but he still has some of that stoicism, with a soft spot for the underdogs.
I am TRYING to add some of the comedic brilliance of Douglas Adams, but alas, I'm not Douglas Adams, so my story is not nearly as funny as his books. Some of the matter-of-fact oddities and appellations are (at least in my mind) in homage to Hitchhiker's Guide to the Galaxy and the man himself, Douglas Adams.
Most of my science fiction and alien/UFO/extraterrestrial info is coming from my favorite FBI agents, Mulder and Scully. None of my extraterrestrials are that similar to any that they've encountered (if so, it's a complete coincidence), but their experiences, terminology, and theories have played a big part in informing the conspiracy portion of the story. The truth is out there, and in my story, pretty much everybody knows it already.
George Lucas and I have a love/hate relationship. In my mind, anyway. I love Star Wars Episodes IV-VI, but every time I watch those films, I find new flaws. Still, they are one of the go-to sources for outer space fiction, and I can't leave them off the list. Primarily, the films are informing my understanding of spacecrafts and space travel as my characters hurtle through space, visiting various fictional galaxies, systems, and planets.
My main character is a math wiz, not unlike Charlie Eppes of Numb3rs, but unlike Professor Eppes, her brilliance is not as well-recognized. Her love and exceptional ability to manipulate numbers and create algorithms and proofs is very much like Charlie's, but she doesn't test well and doesn't try to prove herself. As a result, her skills stay relatively under wraps until she finds a place to apply them freely.
Inspiration comes from some unusual places, but as TS Eliot once said: "Immature poets imitate; mature poets steal."
Happy reading, happy writing, and happy Thanksgiving!
For instance Xylocaine causes numbness in an area of your body. Given during childbirth. Secondly treats emergency heart problems. There were only couple of examples. What is the most significant information you should know about canadian viagra? A lot of patients know this drug as Sildenafil. Whereas erectile dysfunction is more common in men over sixty, men of any age can unable to have an hard-on. Notwithstanding sex is not vital for good health, it's undoubtedly good for you. Diabetes can lead to erectile dysfunction. While the generic is credited with nerve hurt, it can also kill the mood in bedroom. Very likely you already heard that any generic has side effects.