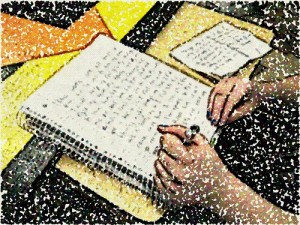 I've never really had to schedule time to write. Writing has always been a priority and my schedule has always been enough of a priority that I have almost always been able to find time for it. With all my other commitments this year, I'm finding that if I don't schedule time to write – or in my case, edit – it doesn't happen. It's a very strange phenomenon – one I'm quite unused to.
On the plus side, my reading progress is coming along swimmingly. Out of my goal of six, I've got three books down, two with good progress, and one that I haven't read much of yet, but I expect to make it through quickly.
However, I was hoping to finish the remaining chapters of my edit-in-progress and have a new draft complete by end of month, but I'll really need to knuckle down this weekend if I'm still going to do that.
Time-sucks/Time sucks
My blogging has been taking up way too much of my time. Not this one, obviously, but I'm in the process of moving my movie review blog over to WordPress and that is taking forever because the formatting has gone all wonky and I have to edit each post individually and reformat it – not to mention there are nearly 300 posts on that site.  Plus, I'm still trying to keep up with writing new posts on that site which are, if possible, taking up even more time.
Not that I'm complaining. Just an observation. And half-assed explanation. Still, it's frustrating to have so much I want to do and have so little time to do it all. At least the blog switchover is a temporary time-suck. And after this month, the reading ought to be more manageable as well. I'm trying to switch to audiobooks for my book club because – do you have any idea how much reading/listening you can get done while working on a bloody website? A LOT.
The latest book reviews
This is one I started ages ago and finally finished last weekend! Falls under the way overdue section of the TBR challenge:
Waiting for Godot by Samuel Beckett
My rating: 4 of 5 stars
This is another one I feel like I should have been assigned in school and never was. I think I would have gotten the full effect of it in a school setting, because typically in a class, we read plays out loud and this is definitely a difficult one to read on your own if you're not reading it out loud or seeing it performed. It's a lot easier to mix the characters up and lose track of events (though there aren't that many, to be honest).
Having said that, it does get at the monotony of daily life, the idea of an abstract, unattainable and unreachable religious figure, and the delicate balance between hope and despondency in the search for meaning. [Read the rest of the review on Goodreads]
AND: I just got done with the one for book club, so that review is up now, too :) Falls under the ebook challenge:
The Round House by Louise Erdrich
My rating: 4 of 5 stars
I am surprised I have never heard of this author before, though the book itself sounded familiar when I came across it. I have a little bit of history and familiarity with Native American culture, and I enjoyed getting back in touch with some of that in this book. [Read the rest of the review on Goodreads]
Scheduling writing… do I have to?
I have an extraordinarily detailed calendar, due partially to my slight OCD tendencies and partially to occasional short-term memory issues. I mark everything down – often in more than one place – so I don't forget it, and I set reminders constantly. I've got an agenda book, a calendar application on my computer, I use Google calendars, I have a calendar app on my phone, and I also use a few task lists or reminder list apps.
And yes, I do have a little one-hour block set aside most days with which to write. This is time in addition to my blogging and email writing time – but, I don't always get to it. I usually compensate for any lost time during the week on the weekends, but lately, that hasn't been happening.
While it's easy to get caught up in the hectic craziness of everyday life or get sucked into a particular project, video game or sporting event, it's important to set limits and prioritize your time if writing is among those priorities.
For a writer, writing feels like water. You need it to sustain you, and the experience of it makes you feel so much better afterward. Remember how I got so burned out on editing last spring that I started working on a new story just for a change of scenery? Writing is a cold drink of water after walking through a hot crowd of people at a music festival.
Whether you're up against a deadline for someone else, or whether you just want to achieve your own goals within a reasonable time-frame, scheduling time specifically for your writing is important when you find that your other obligations are starting to take over your life. If you can devote fifteen minutes a day or lump it together in a four-hour power sesh on a weekend, it's all good. Forward motion. Progress. It's all helping you get shit done. And that's a good thing.
Do you schedule time to write? Do you wish you did? What's holding you back? Talk to me about it in the comments!
For instance Xylocaine causes numbness in an area of your body. Given during childbirth. Secondly treats emergency heart problems. There were only couple of examples. What is the most significant information you should know about canadian viagra? A lot of patients know this drug as Sildenafil. Whereas erectile dysfunction is more common in men over sixty, men of any age can unable to have an erection. Notwithstanding sex is not vital for good heartiness, it's undoubtedly good for you. Diabetes can lead to erectile disfunction. While the generic is credited with nerve pain, it can also kill the mood in bedroom. Very likely you already heard that any generic has side effects.